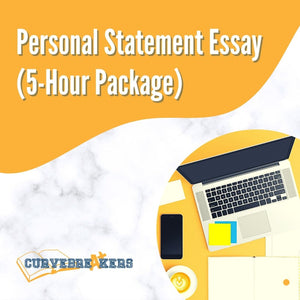 The team at Curvebreakers is here to help you write your college essays. Whether you're struggling to pick a topic or are already writing a second draft, we have options that are guaranteed to fit your unique needs. At Curvebreakers, we want students to leave with a finished product that shows colleges part of their personality that doesn't get conveyed through their resume or transcript.
Your student will write their essay with the guidance of one of our expert tutors. Tutors can help students brainstorm, craft, and edit their papers. They'll never ghost-write an essay; it is up to the student to put pen to paper and tell their story.
This package includes 5 hours with an associate tutor. If your personal essay is not completed within that time, additional hours may be added. By-the-hour essay sessions are only available to customers who've purchased a college essay package.
Essay packages with Nick and Brittany are very limited. Call the office at (516) 728-1561 to check if a spot is available and to book a package.