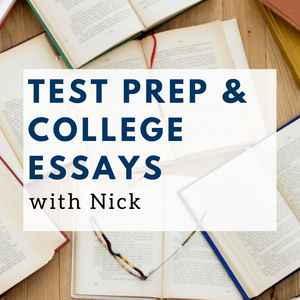 Test Prep and College Essays with Nick
Students with test prep packages can also have Nick guide them on their personal statement and supplemental essays.
Curvebreakers' offers a personalized, data-based approach to test prep. Students start with diagnostic practice SAT and ACT exams to see which test is better suited for them. Families are encouraged to meet with Nick for a consultation, and then from there, he will recommend the best path forward to meet your goals. 
Nick's familiarity with both exams, his ability to connect with students of all skill levels and help them get into their dream schools is what makes him an excellent and effective tutor. 
Packages with Nick start at 10 hours for both test prep and college essays. At this time, his availability is very limited and there may be a waitlist. Please call (516) 728-1561 if you have any questions or would like to check his availability.
For college essays, Nick will guide students through brainstorming activities to select a topic and intended message, ending with a compelling statement to make each essay stand out. Students will be steered away from topics and messaging that do not highlight who they are or help them stand out.  
***
About Nicholas LaPoma
Nicholas LaPoma, aka "Nick The tutor," helps students from all over the country prepare for standardized tests and write outstanding college applications. Nick's seriousness about test prep began when at the age of 19 he started teaching classes for one of the largest test prep companies in the world. After teaching intensive SAT, ACT, and LSAT classes, Nick decided to apply to law school.
After obtaining numerous full ride scholarships to top law schools, he embarked on his career as an attorney. In the meantime Nick began working for boutique NYC based tutoring companies. At these companies Nick was responsible for preparing middle school and high school students around the city for exams like the SHSAT, SAT, and ACT, as well as assisting students with college essays and applications. He often felt their approach to test prep was too rigid, impersonal, and not adaptive to each student's learning style. Nick knew there was a better and more effective way to help students improve their test scores. A few years later in 2014, Nick founded Curvebreakers Test Prep and dedicated all his time and energy to preparing students for college. Nick currently works with over 10 schools on SAT prep programs, and has helped his students gain admission to nearly every top college including all of the Ivy League Universities. Nick has a unique approach to the process that includes ample communication with parents as well as an extreme amount of individualization. Nick focuses on application storytelling and creative college essay writing with his students as this will be the most important soft factor for a top college. Nick has over 60 million views across all social media platforms (and counting). Nick also scored in the 99th percentile on the SAT as a high school student.

Adding product to your cart
Use left/right arrows to navigate the slideshow or swipe left/right if using a mobile device