SAT Class for the Digital May 2024 Exam (Thursdays & Sundays)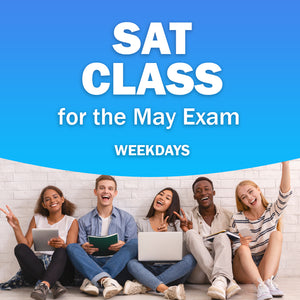 Course Description:
This class allows students to complete 20 hours of total class preparation and two digital practice tests before the official exam takes place on May 4th, 2024. Class dates fall on Thursdays and Sundays with digital SAT practice tests scheduled into the class.
1. Thursday, March 14th (practice test)
2. Sunday, March 17th
3. Thursday, March 21st
4. Sunday, March 24th
5. Thursday, April 4th
6. Sunday, April 7th
7. Thursday, April 11th
8. Sunday, April 14th (practice test)
9. Thursday, April 18th
10. Sunday, May 2nd
SAT Class Practice Tests
For both practice test sessions on Thursday, March 14th and Sunday, April 14th, students should bring a fully charged laptop or tablet. The practice test will be administered online on Curvebreakers' diagnostic, adaptive testing platform that mimics the real digital SAT. Immediately after taking their practice tests, students will see their scores and diagnostic analyses of their test performance.
Course Materials Required for Course (not incl. in registration):
Decoding the Digital SAT will be available on Amazon in both print and digital editions. Estimated release date is December 1st, 2023. Tentative price: $29.99. Registrants will be contacted when the book is available for sale.
Class Benefits:
Buy 5 hours of private tutoring and get 1 free

Receive up to $300 off a private tutoring package (call the office at 516-728-1561 to redeem).
Registration: