SAT Class at Sewanhaka High School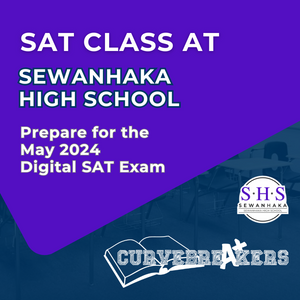 Course Description:
Prepare for the May 2024 Digital SAT with Curvebreakers at Sewanhaka High School.
This class allows students to complete 14 hours of total class preparation and two digital practice tests before the official exam takes place on May 4th, 2024. Class instruction follows a Monday / Wednesday schedule, and and the practice tests are scheduled for Wednesday, March 13th and Wednesday, April 17th.

Course Materials Required for Course (not incl. in registration):
Decoding the Digital SAT will be available on Amazon in both print and digital editions. Estimated release date is December 1st, 2023. Tentative price: $29.99. Registrants will be contacted when the book is available for sale.
Registration: