SAT Class for the December 2023 Exam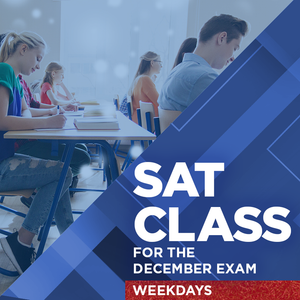 Course Description:
This class begins October 25th and provides students with 20 hours of total preparation before the official SAT exam on December 2nd. An instructor will review each section of the test in detail, providing students with the basic content knowledge they need along with various test-taking strategies. Instructors will assign homework from practice tests and Curvebreakers' SAT strategy book.
Class Benefits:
Buy 5 sessions with an associate tutor and get 1 free (call the office at 516-728-1561 to redeem)

Class registrants can receive up to $300 off a private tutoring package. (call the office to redeem)
Course Materials:
Curvebreakers' A New Approach to Deconstruct & Destroy the SAT: Conquer the SAT with Curvebreakers - Available on Amazon in both print and digital editions.
After registering, the confirmation email will include a link students can use to set up access to the course materials hosted on Teachable. Students will be able to log into Teachable during class and follow along with the instructor. Homework and answer keys are included with each session's lesson plan
Registration: