SAT Class for the March 2024 Exam at Garden City High School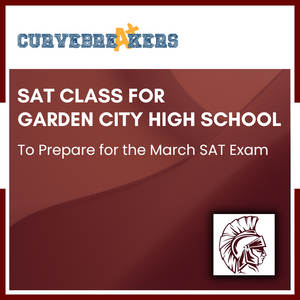 Course Description:
This class is open to students in the Garden City High School District and is scheduled to lead students up to the March 2024 digital SAT exam.
Curvebreakers' SAT class starts on January 29th, 2024, offering a total of 18 hours of instruction and two full-length, proctored SAT practice exams.
What's included:
Diagnostic Score Report: After the full-length, proctored practice test, students will receive a 6-page, in-depth report analyzing their test performance across each section, question type, and concepts.

Customized curriculum:

 

The instructor will use data from these practice tests to make the most of in-class instruction, reviewing test material and strategies to help raise scores.
99th-Percentile Scoring Instructor:

 

An expert on the SAT, trained in Curvebreakers' teaching methodologies, will help students learn what's needed to see a score improvement and build confidence going into their official exam.
Diagnostic, Digital SAT Practice Tests
Students must bring their own laptop or tablet on January 29th and February 28th to take adaptive, digital SAT practice exams. Students will be given an account login to access Curvenbreakers' diagnostic platform. Students may bring their own graphing or scientific calculator; there is a calculator built into the app as well.
Course Materials Required for Course (not incl. in registration):
Decoding the Digital SAT will be available on Amazon in both print and digital editions. Estimated release date is December 1st, 2023. Tentative price: $29.99. Registrants will be contacted when the book is available for sale.
Registration: