SFP March SAT Class on Thursdays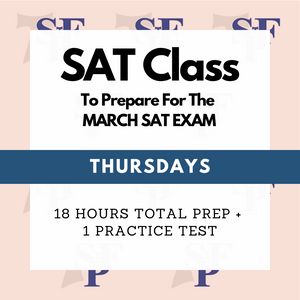 Course Description:
This class allows students to complete 18 hours of total class preparation and one digital practice test before the official exam takes place on March 9th, 2024. Class instruction follows a THURSDAY schedule, and and a practice test is scheduled on Tuesday, February 15th.
Course Materials Required for Course (not incl. in registration):
Decoding the Digital SAT will be available on Amazon in both print and digital editions. Estimated release date is December 1st, 2023. Tentative price: $29.99. Registrants will be contacted when the book is available for sale.
Registration: