ACT Class for the June 2024 Exam (Weekdays)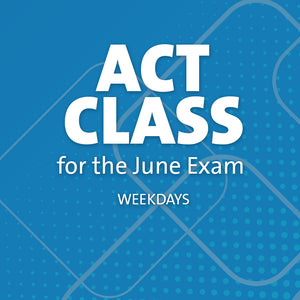 Course Description:
This class allows students to complete 20 hours of total class preparation and two proctored practice tests before the official exam takes place on June 8th, 2024. Class instruction follows a Monday / Wednesday schedule, and a practice test is scheduled on Friday, May 31st from 6:00 - 9:15 PM.
ACT Practice Tests
Sitting for timed, full-length practice tests is a crucial part of preparing for an official ACT exam. Two full-length practice tests are included in the class registration. 
Practice Test #1: Sit for a practice test during one of our regularly scheduled times on the weekend: Saturdays at 9 AM or 1 PM and Sundays at 9 AM. Call the office at (516) 728-1561 to schedule your first class practice test. This first practice test offers students a baseline and a chance to understand their strengths and weaknesses before the class starts.
Practice Test #2: The entire class will be sitting for a practice ACT on Friday, May 31st from 6:00 - 9:15 PM.
Course Materials:
Students must purchase Curvebreakers' ACT Strategy Book,

A New Approach to Deconstruct and Destroy the ACT.

The Kindle version can be purchased for $3.99 and the paperback is $14.99.

Digital course materials will be given to students at the first class session, which include several practice tests for homework and study guides.
Class Benefits:
Buy 5 hours of private tutoring and get 1 free

Receive up to $300 off a private tutoring package (call the office at 516-728-1561 to redeem).
Registration: